Welcome from Head of School
Welcome from Head of School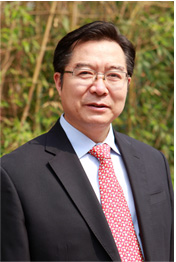 The Tsinghua Campus, with its lush greenery and lotus ponds, has undergone profound changes over the past century. Tsinghua University High School has also witnessed the developments of the past 105 years together with the continuous progress of education in China.
Over a long period of time, Tsinghua University High School has been upholding the educational principle and tradition of "people-centered and student-oriented", striving to develop its education system based on the four pillars of "teaching, management, service, and environment". By establishing featured classes such as "university preparatory classes", the "high school pioneering science class", the "John Ma Memorial Sports Class", "one-stop experimental classes", and "arts-specialized classes", our school hopes to strengthen our students' comprehensive abilities and provide them possibilities for their individual development. We have established distinct educational features, earning an excellent reputation for our school spirit, and our managerial and educational qualities have continuously improved. Since 1983, more than 2204 of our graduates were admitted into Tsinghua University and Peking University, and more than 146 of our students have received the "Golden Sail Award" or/and "Silver Sail Award" in Beijing. Our school has achieved incredible progress in terms of teaching, research, management, and personnel-training, and we have successfully cultivated a great number of talented people both for the development of our country, and for society as whole.
Currently, Tsinghua University High School has become a prominent high school in Beijing M, enjoying an affiliation with the Ministry of Education, earning a national appointment for being a high school with a tradition of physical education, and a CMO training center for the Chinese Mathematical Olympiad Committee. Our school has been awarded the honors of an "advanced school for moral education", and a "Beijing excellent school for campus environment", by the State Education Commission and the Beijing government. Our school has a full range of teaching facilities and an expanding number of faculty, and the quality of our students has also been significantly improved. We have had and continue to have frequent overseas exchange, and we never cease to improve the vitality of our school.
The 18th CPC National Congress and the 18th Plenary Session of the Chinese Communist Party have established the direction for comprehensive educational reforms. The new period and new situation provide new opportunities to develop and promote basic education in a comprehensive way. At Tsinghua University High School, we are looking forward to our school's bright future, and we will continue to benefit from the rich resources of Tsinghua University, carrying forward the humanistic spirit of one hundred years of disciplined training, and actively building a new blueprint for development based on students and teaching practices supported by all walks of life. We believe that by the time Tsinghua University High School reaches its one-hundred-year anniversary in 2015, we will surely be able to build our school into a cradle of education connecting university and high school, one that drives quality education and cultivates high-quality, distinctive, and creative talents. We'll carry out modern educational reforms and build our school into a teaching and research base according to our advanced educational thinking and experience. Our school conditions and level will achieve the standards for a first-class, demonstrative domestic high school. We'll continue to conduct extensive international education and cultural exchange, becoming an elite school with influence throughout the world.
I sincerely hope that all the alumni, sister colleges, and social circles both at home and abroad will continue to give us their extensive support, guidance, and assistance!
As heaven maintains its vigor through movement, a gentle man should constantly strive for self-perfection. As the condition of the earth is receptive devotion, a gentle man should relate to the outer world with a broad mind. All teachers and students in Tsinghua University High School will unceasingly adhere to our motto of "Self-discipline and Social Commitment", making new contributions to the development of basic education in our motherland.
Tsinghua University High School
Principal Wang Dianjun
April 2014